Ready for the beach? Some things to keep in mind
Here are some considerations to plan your stay
Arrival
Our address:
Calle Puerto Marquez 17,
Col. San Nicolas,
Pie de la Cuesta, Acapulco, Guerrero
Tel Casa: 744 4444 311
Google Maps location / Waze: https://goo.gl/maps/yq8pRgk2Qar
From Mexico City, it is approximately 4 and a half hours from the first toll booth to the house. Alternatively, you can take Highway 95 towards Zihuantanejo just after the last toll booth. This will save some time and the heavy traffic of Acapulco - but it is about 30 miles over the toll free road.
From the airport you can take one of the "official" taxis, the trip will take around 70 minutes and costs 800 pesos, the return should be closer to 500 pesos.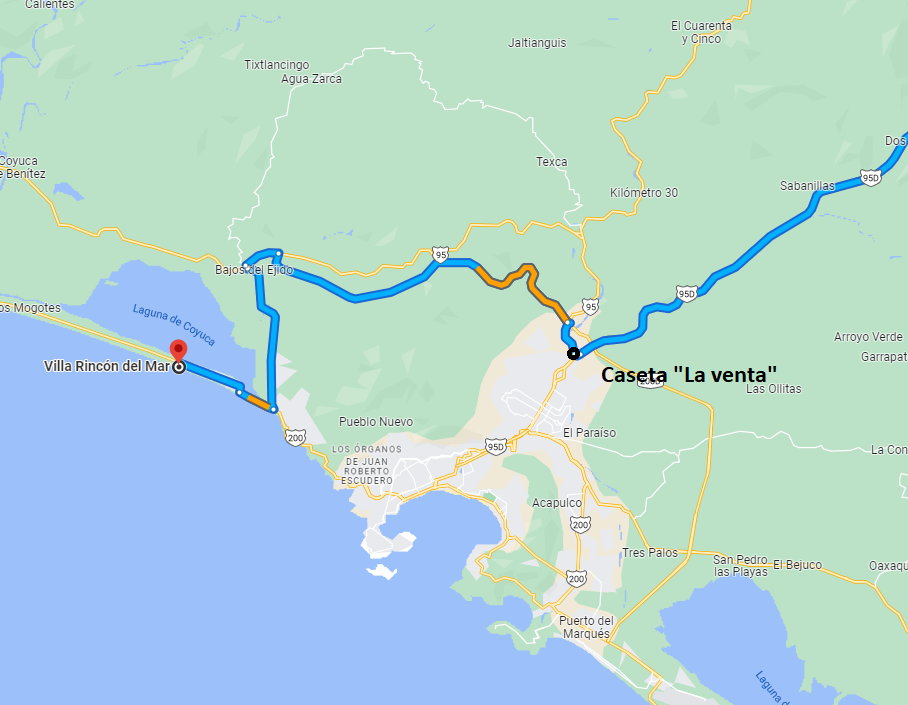 Home
Van Rental
If you visit us as a group, you could rent a van, so the party already will start at home, you also save on gas and highway fees - and help the environment.
Options with chauffeur for up to 20 people, from 15 thousand pesos:
Home
Grocery shopping:
If you want to do the grocery shopping before getting to us, here the most convenient options:
Close-by we have some small "tiendas" (mom and pop stores) and an Oxxo convenience store where you can get basic grocery (no meat, limited fruit & vegetable) and basically all beverages, including spirits. We have returnable bottles for beer, and ice coolers which you can use..
If you prefer, our concierge Francisco can do the grocery shopping for you (add transport and tip) or accompany you after arrival. Fish and Seafood is always bought at the market fresh for the day.
If you let us know your preferences for lunch and/or dinner for the day of your arrival and the first breakfast, we do our best to have everything ready.
Here a menu and shopping list for a stay of three nights, four days of 16 people as an example (spanish only):
Home
What services are included, which are extra?
Services which are included and have y no extra cost:
Check-in after 3pm, chek-out before noon
Daily cleaning of the house and rooms. Change of linens every week.
Preparation of food, brakfast, lunch and dinner
Service from 8 am to 6 pm
Services which are optional and
do
cost extra
Early check-in before 3pm, or late check-out after noon, depending on availability
Service hours before 8 am or after 6 pm
Massage ($250 / 15 USD)
Bonfire at the beach ($250 / 15 USD)
Coconuts ($20 / 2 USD)
Dinner or event at the beach
Home
What amenities are available, and what to bring from home?
What we have in the villa, no necessity to bring with you
Rooms: Sheets, Cushions, Bedspreads, Soap, Shampoo, towels for bathroom and beach
Beach: Umbrellas and chairs for the beach
Party: (Small) sound system, microphone for the karaoke session
Kitchen: Two 16'' refrigerators, microwave, coffee machine ,crockery,glassware, water in garafon, basic species
What you
need
to bring from home, or buy
Sun cream
Mosquito repellent (especially during rainy season)
What we buy for each group depending on your need, but you'll be charged
BBQ charcoal
Frying oil
Ice
Coconuts
Firewood for bonfires
Home
Tours and activities
Here are some proposals for tours and activities:
Yacht rental at sea: For diving, snorkeling, deep sea fishing, or simply a tour for 4-5 hours. Departing from the marina of Acapulco the cost for 5 to 6 hours is about 5 to 6 thousand pesos ( 250 - 300 USD) during the week, and 8 to 10 thousand pesos (400 - 500 USD) on the weekend - it is worth negotiating!

For scuba diving I normally goe with the guys at Acascuba they have a beautiful catamaran boat for up to 30 people.
Here a list of other boats see the photos above.

Laguna: Nice here is that you are at the sea-side, but the lagoon is just a mile inland. Lagoon is a pretty much untouched natural environment with lots of birds and fishermen, about 10 x 3 miles, great tour with a small island for eating.
For tours on the lagoon or to practice water ski I can recommend:

Entre dos Aguas there you have a bit more privacy and they have a beautiful garden for picnic
Tres Marías which is also a restaurant

Both have good 'Mastercraft' boats for 1000 to 1500 pesos an hour (50 to 75 USD/h), either for a tour or to try or practice waterski.
Alternatively, our concierge can also get you a private "lancha", fishermen boat.
Tours: Taxco, Mexico's Silver City in the mountains is about a three-hour ride from here. Small, picturesque town, authentic silver arts.
Also worth to stay a night, there are some big caves couple of miles deep called Grutas de Cacahuamilpa
Home
Hopuse rules and security
Here our house rules we ask you to respect:
Unannounced guests or pets will be received only at the discretion of the host.
Damage at the property, facilities or equipment will have to be paid at the cost of restitution before departure.
It is not allowed to use glass inside or near the pool. It is not allowed to smoke inside the rooms.
It is not allowed to have pets inside the pool, on top of sofas, beds or alone inside of the room.
Music on the beach or outside the house is only allowed until 10 pm, we expect you to follow the instructions to moderate the volume.
The water in the house is naturally warm due to the tropical climate. If you request we can turn on the hot water boiler.
The staff has a schedule of 8 hours a day, regularly from 8am to 6pm. If you require more service time can be agreed directly with the staff.
Events and special food preparation services require prior notice and confirmation by the host
The house is located in a safe and quiet residential area with more beach houses, among our neighbors are Canadians and Americans. You will be out of the hustle and bustle of the Acapulco Bay - but close enough to visit the tourist attractions or vave dinner .
For your comfort and safety we have an alarm system and closed circuit cameras in all entrances to the villa. If you wish, our concierge can show you the exact locations of the cameras.
Home